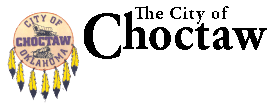 "Celebrating the Past, Enjoying the Present, & Preparing For The Future."


Automatic Bill Payments
The City of Choctaw now offers automatic bank drafting to pay your monthly water utility bill. Automatic bank drafting allows you to pay your bills for water; sewer; trash and/or stormwater automatically by charging it to your checking account.
HOW IT WORKS
When you use automatic drafting you still receive a monthly bill just as you do now which features the date your bill will be automatically paid – usually about 10 days after the bill date, depending on weekends and holidays. If you have questions about your bill, you will have plenty of time to contact the City of Choctaw prior to the automatic transfer. If, at any time, you wish to stop paying by automatic transfer, simply contact the Utility Billing Department at 390-8276, and you will be taken off the plan. Please notify the Utility Billing Department if you change bank accounts.
The only requirement for enrollment in the plan is that you have a checking account. Simply complete the authorization form below, enclose it along with a voided check and return them both to the Utility Billing Department, P.O. Box 567 Choctaw OK 73020-0567. Keep this upper portion for your records. It will take about 30 days to set up your account. Continue to pay your bill as usual, until your bill is marked "Draft Pay". In case of insufficient funds or closed bank accounts, you will be assessed by your financial institution and the City of Choctaw Water Department the same amount that would apply for a dishonored check.
Download the application here and return the form to;
Utility Billing,
P.O. Box 567,
Choctaw OK 73020-0567
Email utilities@choctawcity.org
Fax - 390-8607
for additional information, call Utility Billing at 390-8276.