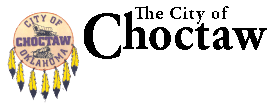 "Celebrating the Past, Enjoying the Present, & Preparing For The Future."


NEWS
CTS v. City of Choctaw et.al, (Case No. CIV-13-118-F)
Waste Management 2013 Schedule
List of Items that can be placed in Recycle Bin
SNOW ROUTE MAP INFORMATION
Winter weather is upon us, it's time to make plans for possibility of ice and snow making its appearance. Therefore, city and county leaders from across the OKC Metro Area to include Choctaw have worked to develop a regional snow route map that highlights the best route choices for motorists when inclement winter weather strikes.
This snow route information is available on the ACOG (Association of Central Oklahoma Governments) website at:
http://www.acogok.org/snow/
A snow route map is available at: http:
http://www.acogok.org/newsroom/downloads09/snowroutes09.pdf
Please feel free to place a link for this map on your desktop so it will be available to you should conditions warrant.
CHOCTAW NEEDS YOU!
We live in a great community! When disasters strike or families are in need, our citizens always respond. What makes our community strong is citizen input and participation.
We have numerous boards and commissions that provide valuable input to the city council. Each city councilman can appoint citizens from their respective ward to these boards or commissions. Currently, we are looking for people who want to help in the life of our city. You can participate in any number of ways depending on your interest. If you are interested in activities within the city such as parks, parades, concerts, festivals or any other community event then consider the Public Recreation Board. If you are interested in the appearance of the city, we have the Community Appearance Board. If you are interested in long term planning, we have the Planning Commission. These are just a few of the many boards/commissions that are an important part of our city government. Choctaw may have a place for your interest and you are urged to participate. Please feel free to complete an application that can be found here.
As we continue our growth while retaining our small town feel, it will become increasingly important to hear what you want. It is the city's intent to hold a series of town hall meetings and do surveys in the late spring to hear from you. We want to know what you want in the future and what things need to be addressed immediately along with finding ways to finance and provide necessary resources to accomplish street repairs, water and sewer improvements, parks, walking trails, and other amenities that our citizens deserve in Choctaw.