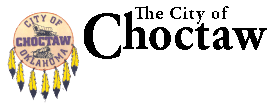 "Celebrating the Past, Enjoying the Present, & Preparing For The Future."



April 21st-23rd-Land Run Festival at CCP


April 23rd-Easter Egg Hunt at CCP


May 7th-City wide garage sale


For more information on events call City Hall at 390-8198



Q: How do I locate my councilperson?
A: A ward map is located under the City Council section of the Government tab


Q: 's or Comments about this web site should be directed to the
A: City Manager


City Government
The City of Choctaw is a "Home Rule" city. Choctaw voters adopted its initial "Charter" in 1973. In April of 1999, Choctaw residents voted to amend the Charter and approved the proposition allowing the city manager to reside within the city limits and/or the Choctaw-Nicoma Park school district.
The municipal government operates under a "council-manager" form of government as provided by the city charter. Pursuant to its provisions and subject only to the limitations imposed by the Oklahoma Constitution and by our charter, all powers of the city are vested in an elective council, which enacts local legislation, adopts budgets, determines policies, and appoints the city manager, city attorney, municipal judge and all boards, commissions and trusts. The city manager executes the laws and administers the government of the city.