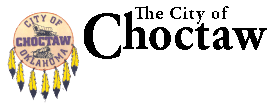 "Celebrating the Past, Enjoying the Present, & Preparing For The Future."


Board of Adjustment
The Board hears and decides appeals that allege error in an order, requirement, decision, or determination made by an administrative order (city staff) in the enforcement of the zoning ordinance. The Board also hears and decides special exceptions to the terms of a zoning ordinance and may authorize a variance from those terms if the variance is not contrary to public interest and, due to special conditions, enforcement of the ordinance would result in unnecessary hardship, and so that the ordinance is observed and substantive justice is done. The Board hears all zoning uses permitted on review.
The Board of Adjustment meets the last Monday of each month at 7:30 p.m. at City Hall.
The following individuals were appointed or re-appointed to the City's Board of Adjustment by the City Council to serve a three year term. These are citizens who take an avid interest and pride in Choctaw, who get involved by giving unselfishly through volunteering their time and energy in order to make Choctaw "a better place to live."
If interested in serving on this board please fill out the application linked here.