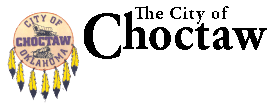 "Celebrating the Past, Enjoying the Present, & Preparing For The Future."



Public Works phone number 405 390-8276


The Public Works Department is responsible for the maintenance of the City public works infrastructure. The Public Works Department employs approximately 12 employees. They are divided into several different divisions to cover the many types of maintenance that is required. The Public Works Department has the responsibility for the administration, design, construction, maintenance and operation of the city's streets, street lights, bridges, water, sewer, storm drainage, vehicle fleet and park facilities.
The Public Works Department takes great pride in its service delivery and is committed to providing excellence in delivery of quality service at all times. This service delivery will be accomplished in a cost effective and professional manner using the most progressive technological and personnel resources that are made available to the department through its citizens.
It is the goal of each Public Works employee to reach out and understand the service level expectations of its citizens and to provide those services that enhance the quality of life for the community in which we live and work.

If you should have a problem with any of the items below, please feel free to call our office at (405) 390-8276, our office hours are 8:00 a.m. till 5:00 p.m. The Choctaw Public Works Department can also be contacted at the following email address: pwdirector@choctawcity.org.
Water leaks, leak test.
Manholes; storm drains; sanitary sewer drains; sewer back-ups; dirty water.
Pressure test; fire hydrant problems.
Water and sewer line locations.
Street repairs, curb repairs, culvert repairs.
Mowing maintenance of creeks and ditches.
Maintenance of Municipal Buildings and property and park maintenance.
Repair and maintenance of all lift stations.
Repair and maintenance of all City-owned vehicles.
Repair and maintenance of all City-owned mechanical equipment.
Continual operation of wastewater plant facilities. Including lab test and required reports.
General maintenance and repair of all City-owned buildings.
Continual operation of 8 municipal water wells.
Household Hazardous Waste Recycling & Disposal Facility:
Dispose of your household hazardous waste safely at the Midwest City Household Hazardous Waste Recycling & Disposal Facility located at 8726 SE 15th Street.
Call Randy Taylor at 739-1040 for an appointment and further information.
Stormwater Management
The City of Choctaw, Oklahoma, is working to meet the requirements of the new Phase 2 storm water program rule. By developing a strict storm water ordinance, implementing a storm water user fee, educating our citizens, and better tracking the generation and discharge locations of storm water, the city hopes to meet and fulfill this unfunded federal mandate.
Although Choctaw was already trying to address its sedimentation problems before EPA finalized the Phase 2 rule, the rule sets forth certain requirements for the City to meet:
Apply for National Pollutant Discharge Elimination System (NPDES) permit coverage thru the Oklahoma Department of Environmental Quality (DEQ).
Develop a storm water management program which includes the six minimum control measures.
Implement the storm water management program using appropriate storm water management controls, or best management practices (BMPs).
Develop measurable goals for the program.
THE ULTIMATE OBJECTIVE IS TO PROTECT WATER QUALITY.
To date, the completed tasks by the City include several elements:
A OPDES Storm Water General Permit (issued by ODEQ effective 1/18/2006 and expires 2/7/2010)
A Storm Water Utility Ordinance (Completed and approved on 12/12/2005)
A Storm Water Fee of $3.00 (initiated on May 1, 2006)
The Illicit Discharge and Connections Ordinance (Completed and approved on 6/27/2006)
The hiring of a storm water compliance officer to oversee the elements of the approved General Permit (July 2007)
The City's storm water utility fee mentioned above will fund the overall required storm water management program. Over the next 3 years, a storm water master plan will be developed. The plan will be designed to include information such as a construction site and post-construction runoff control, pollution prevention and good housekeeping and mapping and inventorying.
After full implementation, the future goal is to reduce storm water's impact on its local waterway by reducing and preventing future flooding, thereby enhancing the livability of the city. In the future, the plan will be amended to include infrastructure inventory, basin hydrology modeling results, flood potential information, and potential solutions to flooding problems.
Protecting Water Quality From URBAN RUNOFF
Source - www.epa.gov/nps
http://www.epa.gov/npdes/pubs/nps_urban-facts_final.pdf
Caring For Your Septic System
Source - Oklahoma DEQ (Department of Environmental Quality)
http://www.deq.state.ok.us/factsheets/water/septiccare.pdf
Homeowner Guide
http://www.epa.gov/npdes/pubs/homeowner_guide_long_customize.pdf