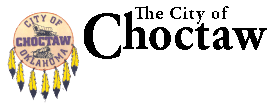 "Celebrating the Past, Enjoying the Present, & Preparing For The Future."



Q: Where can I obtain Permits?
A: Paper forms are available at Choctaw City Hall, and electronic copies are available for download here.



The City of Choctaw has adopted the 2009 IBC Code Suite. This includes the International Residentail Code 2009 and ICC/ANSI A117.1-2003 (ADA).


Choctaw Development Center
The Choctaw Development Center is the one-stop shop for building permits, zoning, inspections, landscaping and parking regulations.
A Commercial building permit is required where any alteration, modification or otherwise change in occupancy that would require inspections from the City of Choctaw. A required Site Review meeting will be conducted for all non-residential projects, and are normally held within 2-3 business days after the building permit has been turned in.
For more information please review the Choctaw Development Center Guidelines.
Commercial building Permit Application
Residential building Permit Application
Accessory Structure - Car Port
Development Conference Checklist
Stormwater Notice of Intent (NOI) and Stormwater Pollution Prevention Plan
Development Center Documents
Drainage details
Paving details
Water details
Sewer details